Today's accumulation of snow in the backyard of our townhouse.
Just when I thought I could start getting my golf gear ready for some early season golf – here comes the snow again. I'm not really complaining. I like the snow and snowboarding.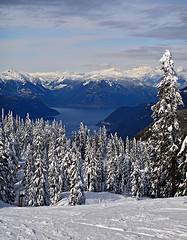 Last Saturday we took advantage of this lovely winter weather by heading up to Cypress Mountain for a day of snowboarding. It was an absolutely gorgeous day. The sun was out, the snow was soft, and the lineups were surprisingly short. It was my first day of riding this season and it felt great to be back on a board again. Unfortunately I forgot my camera, but Flickr user "louder" posted some pics from the following day that looked pretty much the same as what we saw. We're planning a Sun Peaks adventure sometime in the coming weeks.
So I guess I'll leave the golf clubs packed away in the garage for another week…