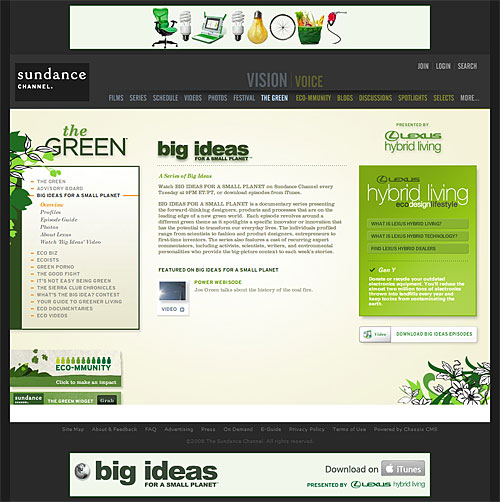 I was doing a little reading on Wikipedia about Earth Day and it mentions there are two different Earth Days – April 22 and on March equinox – who knew? Learn more about ourEarth Days at Wikipedia.
As I mentioned on twitter this morning…last night I discovered a cool TV show on National Geographic's HD channel: Big Ideas for a Small Planet. They were having a marathon of all the episodes to date, I think.
I'm not sure, but it looks like Big Ideas for a Small Planet was originally aired on Sundance Channel. It was really inspiring to see so many people working to make the world a better, more sustainable place.
Last summer I posted about William McDonough and his Cradle to Cradle Design ideas, which I think are exactly what we need. If you've never heard of McDonough follow the links from this article to a good video about Cradle to Cradle design.